Details

Hits: 1035
For one of my projects, I recently bought on Aliexpress (see links at end of article) a Chinese fan speed controller board.
I was struggling to understand how this board can be set, the instructions found on Aliexpress being nearly of no help. The Chinese to English translation is.... :-)
Here is what I found ...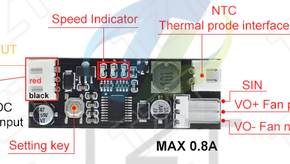 Details

Hits: 1197
After having build a radiosonde receiver using the DL9RDZ software and a TTGO module, here is a short article on its use in the field.
Some configurations and explanations.
Refer to the previous Installation Installation rdz_ttgo_sonde.



Details

Hits: 1636
Wishing to replace my good old trusty BIRD 43 Watt-meter, I prospected a little on the Internet and found the description of an open source project for a Watt-meter which corresponded perfectly to my needs.


This is a fork of the version made by TF3LJ, and developed by PD0LEW.

A new hardware version was subsequently developed by WA2T.

I chose the version with an OLED display, but there are versions with touch-sensitive TFT displays.