Details

Hits: 23178
To be finished ...
While building up my remote station, i was looking for a solution to control one or 2 azimuth only rotators via the Internet.

There are several solutions and i finally adopted the K3NG rotator project i already used for a rotator controller connected via USB to my computer.
An Arduino compatible Ethernet shield must be plugged in the Arduino. The Ethernet shield is based on the chip W5100 and compatible with an Arduino UNO.
Details

Hits: 27069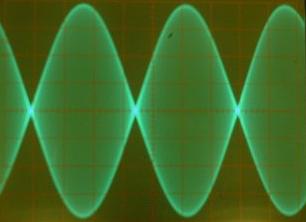 The orinality of this description is that the tone generation is made by the use of a DDS and not a sine wave generator made with transistors or a special circuit. It also does not use any special and expensive component but only junk box components, or at least cheap ones !
The main characteristics of this generator are :
- Two tone generator 800/ 1000 Hz or 400/2600 Hz (jumper selectable)
- Single tone generator of 1000 Hz
- Ajustable output level, max around 100 mV pp on 600 Ohm, or 35,4 mV eff. in single tone or 25,0 mV eff. in 2 tones
- Spectral purity between 0,3 and 150 kHz > 50dB !
- Distorsion <0,01% (in single tone) !
- Supplied by a 9V battery, consumption 7-8 mA that gives 50 working hours with an alcaline battery.
- Automatic PTT switching at power on.
This circuit has originaly been described by DH7AHN ,adapted and translated by myself for my usage. The original description can be found here
Details

Hits: 27911
This page has no pretention and is not a complete description of the vertical antenna, it only is intended to help you understand the most important things about this antenna and to how make it work !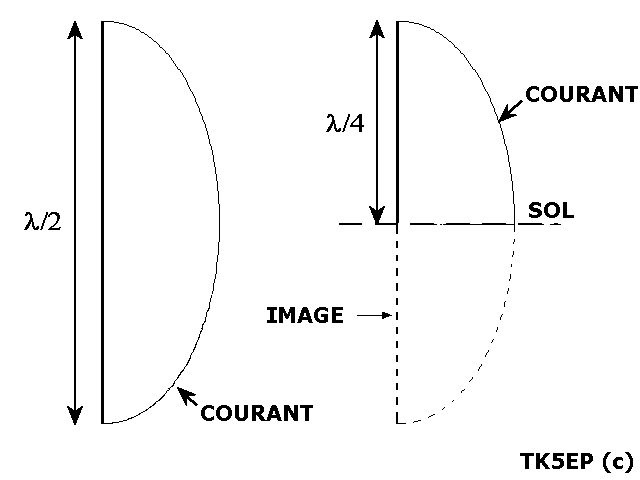 The simplest of all antennas is the vertical, also called the Marconi antenna. It has a quarter wave electrical length and has its base connected to earth.
This antenna vibrates with a intensity node (minimum) at his top, so at a voltage antinode (maximum).
Simple in its operation, it is by cons not the easiest to understand and handle.
Picture : The 1/2 wave antenna and it's equivalent mounted on ground. The missing 1/4 wave can be considered as its image in the ground.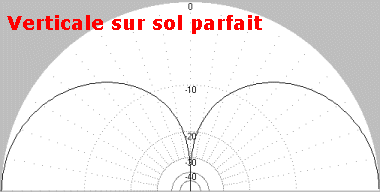 A PERFECT1/4 wave vertical would have at its resonating frequency the following characteristics :
- Uniform vertical radiation
- No horizontal radiation
- 5,1 dBi gain
- Maximum radiation at 0°
- Impedance of 36,5 Ohm
- No loss in the grounding system
PERFECT means no loss in the vertical radiating part, no loss in the grounding system (also called counterpoise, by analogy to mechanics)
In these conditions, with a 50 ohm coaxial feedline, you should accept a 1.4 SWR or add a matching system with a quarter wave line ot a LC circuit.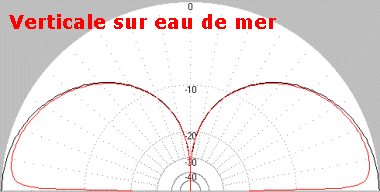 Unfortunately, perfection does not exist...
Consider the same antenna over the best earth that can be found : salt water (i know it's stupid)
The diagram already shows a visible difference :
- Maximum radiating angle : 10°.
- Gain loss : 4,45 dBi
- Impedance 36 Ohm.

This difference is due to a worse soil conductivity.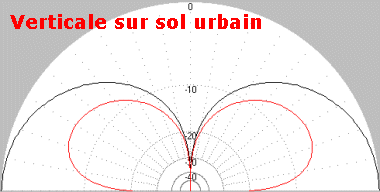 The same antenna, but this time over a bad soil (city lot). I don't wish that to anybody !
The diagram shows :
- Maximum radiating angle at 28°.
- Important loss : -1,01 dBi
- Impedance 36 Ohm.
We see that the soil nature is very important for this antenna !

The efficiency of a vertical depends not only of the soil nature, but also other factors. Considering losses, the efficiency can be resumed by the formula :
These losses are :
- Material RF conductivity (Aluminium, copper...)
- Losses in insulators (leakages)
- Losses in the loads (coils, traps, etc...)
- Losses in the ground
In ground losses, we have to consider TWO TYPES of loss :

1) The ground at immediate antenna vicinity in which the current return will be done.
The power applied to the antenna has still not been radiated and the losses are dissipated in the ground and are reducing the radiatiing efficiency of the antenna.

2) The ground all around the antenna over a large number of wave length, typicaly > 2 for a quarter wave vertical.
It is in this part of the ground, called Fresnel zone, that the power radiated by the antenna will be reflected by the soil and will contribute to the reflection efficiency.
We see that for having an efficient vertical antenna, we can act on these 2 factors. If it is almost impossible to influence the second one (you can move to a remote island, water your garden), we can improve the first one in reducing the losses to their minimum.

With a poor ground and in order to have the best current return as possible, we can reduce the losses by placing a certain amount of radials.

These radials can be :
- laid on the ground.
- buried into the soil.
- raised over the groundl.

The first 2 methods are equivalent in terms of performances, except if you are burying the radials too deeply. Depth from a few cm to several tens of cm will not make a big difference.
Brown, Lewis and Epstein in their 1937 studies have shown that in order to obtain a perfect grounding system, 120 radials are needed !
Less radials means worse efficiency, more will not bring an improvement.... A reasonable minimum would be 16 radials of a 1/8 wave length.
Curiously, the number of radials also determines their length. The follwing table gives this relation :
| | | | | | | | |
| --- | --- | --- | --- | --- | --- | --- | --- |
| Nb radials | 4 | 12 | 16 | 24 | 48 | 96 | 120 |
| Length (Lambda) | 0,1 | 0,15 | 0,125 | 0,25 | 0,35 | 0,45 | 0.50 |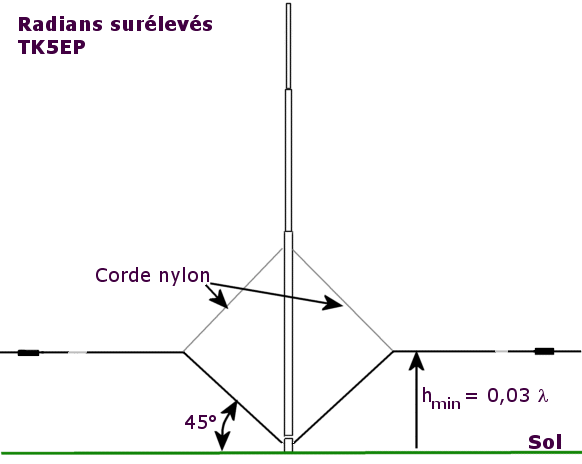 In all cases were 120 radials are not possible, it is better to use surelevated radials.

Computer simulations and real-world tests have shown that 6 radials of 0.25 wavelength uniformely disposed around the vertical give the same result as 120 radials of 0.5 wavelength !! Only one radial is altough enough for a good current return, but the antenna will have a certain directivity and a horizontal component.
2 radials are correcting this.
CAUTION, using surelevated radials will lower the impedance down from 36 Ohm to close to 21 Ohm !!

The radials must be tuned in order to reduce the radiation impedance. Their height over ground should be at least 0.03 wavelength, but this heigth depends of the soil quality. The poorer the ground, the higher the radials.
The best would be to elevate the base of the vertical in order to strain the radials at 90° (horizontaly). The higher the antenna, the better the gain.

When all this is not possible, the radials are placed at 45° from the base until they reach the right heigth and the rest will be strained horizontaly.


Some practical hints :
- I'm tuning the radials by pair (in opposite directions) in connecting them like a dipole and with the help of a noise bridge or a VNA placed at the base of the vertical. The important fact is tuning them to the right frequency, not for lowest SWR. Once tuned, they are reconnected at the antenna base.
- Use good insulators at the end of the radials, they have a maximum of voltage at this position. I've seen insulators of several cm taking fire under wet conditions !
- When using plastic insulated wire for the radials, you have to cut them shorter by 4 - 6% as the theoretical length.
- In case of lack of space, you can shorten the radials by placing coils (with some additional losses...) or bend their extremities.
- A vertical works well on a flat, clear and uniform ground.
Details

Hits: 8433
During the writing of my beehive monitoring project "Apaguard " using an Arduino UNO, i've been quickly very clode to the SRAM limit...
The Arduino UNO has "only" 2048 bytes of SRAM, which can quickly be filled if no precautions are taken.
Here are a few tricks i used during my writing, which permitted me to save a lot of SRAM and should be used by anyone coding on Arduino.
Details

Hits: 41929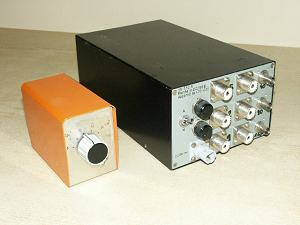 During our multi-multi contest operation, we came against a problem while using low band receiving antennas.
There were 3 low band stations, one on 160m, another on 80m and one on 40m.
The problem was simple : how could we share the Beverage antennas on all of these 3 stations ?
The first solution was to split each antenna in 3 directions with coaxial T's and to use a coax switch on each station, so that each station could select a different antenna. That proved to be not very satisfying, the impedance seen by the receivers and antennas were changing a lot depending on the position of the different switches.
DK4VW, Uli told me that the BCC (Bavarian Contest Club) crew was using a Beverage switching box that proved to be very efficient and i began to build such a box with his precious help.
Informations below given with permission of DK4VW.
Details

Hits: 19466
To be finished...
Some years ago, i developed my own rotator interface with a PIC 18F452. In a need of another interface, i was unable to find my software sources of this project, lost somewhere in the computer Walhalla ! So, i looked for a finished project to build, and found the K3NG Arduino rotator project.
It looked very complete and having some recent experiences with the Arduino, i decided to give it a try.
What i needed :
Only azimuth drive
2 lines LCD display (as i had several of them)
Eventualy 2 buttons CW + CCW to drive the rotator
Running on an Arduino Uno (as i had several)
Details

Hits: 3284
| | |
| --- | --- |
| | During my SOTA activities, I often raged on the fact that the builtin CW keyer in my QRP SW-3B transceiver only had one memory ... It is indeed very practical to have several of them in order to free your hands to do something else such as finishing writing the last QSO on the logbook or making a somewhat specific call. The idea therefore sprouted to produce a CW memory manipulator that would meet the following conditions |
3 on the fly programmable memories
low power consumption
easy battery supplying
reduced size
easily reproducible
Having already built a prototype of the fabulous K3NG keyer, I decided to use this project by adapting it to my needs.
Details

Hits: 32102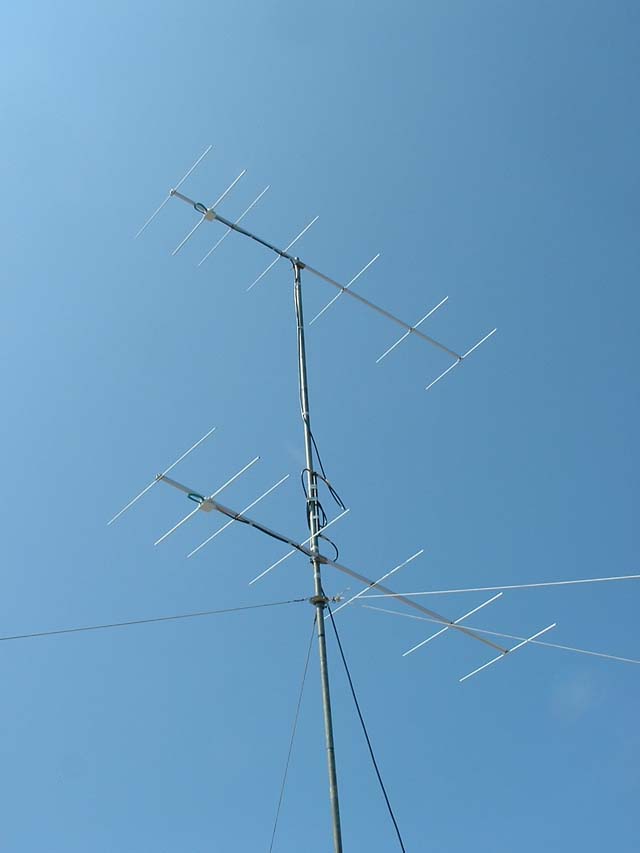 Since almost 30 years, for my portable VHF activities, I used a F9FT 9el yagi. This one was the best available for this purpose, it was leigthweight, relatively cumbersome and performed quite well. Unfortunately, it broke during a contest when falling down from 7m high...
To replace my beloved antenna, I decided to build something and not to buy one. After searching some design on internet, I finally adopted DK7ZB's one. He offers several designs, and iIchosed a 7 element yagi in 28 Ohms technology.
The advantages of DK7Zbs antennas are :
- Computer optimized
- Great reproductibility
- Easily assembled and dismantled. Ideal for portable operations.
- Excellent electrical characteristics, gain, pattern, F/B ratio.
The original version described on DK7ZB's page has a 3.26 m boomlength. So, I asked him if he could calculate it for a 3m boom. Aluminium tubing are sold in 6m length, and with 3m booms i would be able to build 2 antennas. The new calculated antennas have a small gain drop (about 0.35 dB)
Another advantage of this 7el is that with a 6m long alu tubing, you have enough for all elements and build 2 antennas.
Details

Hits: 6987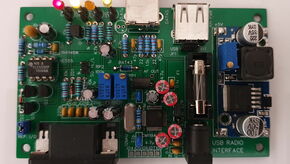 Our corsican repeater network TKNET uses the Asterisk software for the routing and communication between nodes. In order to digitalize the audio signals and interface them with the repeaters, i developped a small interface board some years ago. It was using a cheap USB audio stick that we modified and plugged on my board.
With time, this solution appeared to be not the best choice for different reasons. So, the idea to build a newer board with an onboard USB audio chip was born.
Being retired, i found the time and mood to develop a new interface board using the same chip CM119A which is a small LQFP-48 case.


Details

Hits: 89251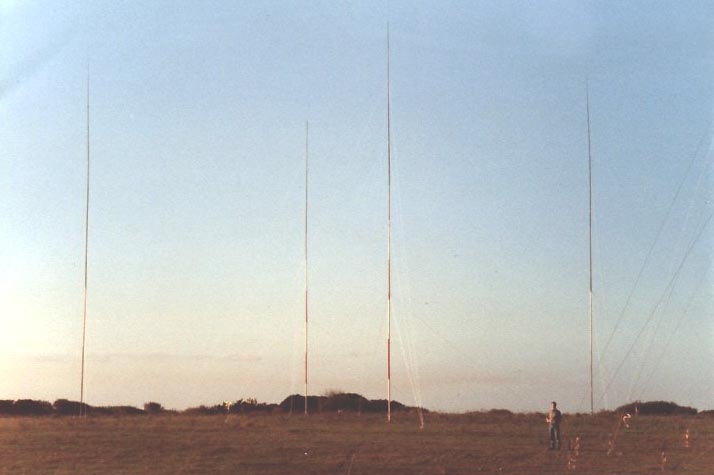 This page is a short description of the four phased verticals system i've build and used. It is primarily intendend to be used on the lower bands 160m, 80m, 40m. All the principles stated here are of course valid for any other bands, but you can achieve the same game with yagi antennas easily. It is mainly built around the Collins hybrid phasing system wound on toroids.
Other feeding methods are possible and certainly better, but this one is rather simple to build and use on the battlefield. (contests, fieldays, expeditions)
Many stations use this system all around the world and it has proven his effectiveness.
Four phased verticals on 80m (click to enlarge)