Details

Hits: 2800
july 5 2019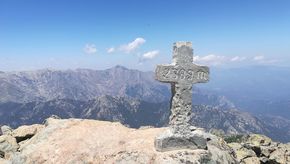 Punta Migliarello TK/TK015 - 2254 m asl - JN42MD81
Monte d'Oro - TK/TK-007 2389 m asl - JN42ND12

Very long hiking if both summits are done the same day !
The start can be done at different places at the "Col de Vizzavona" 1100m and follows the famous GR20. Follow the red/white marks until you reach the pass "Bocca di Muratello" at 2020m asl where you leave the GR20 and aim the summit of "Punta Migliarello" TK-015 azimut SW.
Follow the cairns along the ridge and the summit is easy to reach at 2254 m. The summit is flat and grassy and allows all sort of antennas and even overnighting with a tent.
Details

Hits: 2782
june 22 2019

Capu à Cuccula
SOTA Ref : TK/TK-025
Locator : JN42KH11
ASL : 2049 m
Nice hike with a very nice view from the summit and a beautiful cross on top. About 13 km long and + 1000m climbing.
I started from the parking along the road close to the "Païsone d'Aïtone". The path is rather tricky to follow, too many stones showing different directions, more specificaly in the forest.
My tracks seems to be the safest way to reach the summit.
Not too much activity and some QRN led to only 20 QSOs with 2 S2S.