Details

Hits: 13093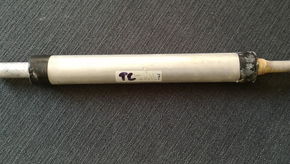 I used the Cushcraft A3 et A4s yagis and soon or later, problems are appearing..
Here are the results of my investigations and repairing technic, that can be applied to other models and trades as well.
What is described here applies to a A4s triband antenna, but the reasoning can be made for any multi-band yagi or vertical.

Details

Hits: 15136
D'après une idée de Kevin Schmidt W9CF, modestement traduit par TK5EP avec l'autorisation de l'auteur.
Voici un simulateur pour le populaire coupleur d'antenne en T avec capacités série et inductance parallèle. Les trois boutons au bas du dessin permettent d'ajuster les trois composants. Ils peuvent être réglés en déplaçant la souris sur un bouton, en cliquant et en maintenant le bouton gauche de la souris appuyé et en faisant tourner le curseur autour du bouton. Le bouton devrait alors tourner et faire varier la valeur du composant choisi. Les boutons des condensateurs ont une course de 10 tours et la self 30.
| | |
| --- | --- |
| No java | |
Le ROS est  affiché simultanément de manière digitale en haut à gauche du "coupleur" ainsi qu'analogiquement sur le ROS-mètre. La perte provoquée par le coupleur est affichée en pourcentage par rapport à la puissance d'entrée ainsi qu'en dB. En cliquant sur le bouton "Autotune", l'ordinateur calculera la valeur exacte des composants qui adapteraient parfaitement la charge en limitant au minimum la perte dans le coupleur en supposant que les condensateurs variables ont un Q nettement plus élevé que la self.
L'algorithme de calcul Autotune tente de minimiser la valeur de l'inductance à utiliser en commençant par essayer de trouver un accord  en affectant une valeur maximum à un des condensateurs variable, puis si cela échoue, il essaye chacun des composants avec sa valeur actuelle. Si aucun accord initial n'est trouvé, il abandonne et affiche "Tune failed" dans le panneau des messages. Si un accord initial est trouvé, il effectue une recherche dichotomique entre la valeur de départ de l'inductance et zéro afin de trouver la valeur minimum de l'inductance pour un accord.
Notez qu'il est simple de programmer un algorithme qui trouve le minimum de perte, alors que nos coupleurs n'ont pas d'indicateur de perte, une règle comme "trouver un accord avec un minimum de self" est bien plus utile. Dans tous les cas, le Q des véritables composants varient pendant qu'ils sont ajustés.
Le bouton Set Up vous permet de changer la valeur maximum des trois composants et leurs Q. Initialement les condensateurs ont une valeur de 250pF, un Q de 2000 et la self une valeur de 30 uH et un Q de 100.
Les trois champs à droite vous permettent de changer la charge et la fréquence en MHz.
Une façon d'utiliser cette applet est de sélectionner une valeur de résistance et réactance de la charge, puis d'ajuster les boutons pour trouver une adaptation, comme vous le feriez avec une vrai coupleur. Notez le pourcentage de pertes dans le coupleur pour votre réglage et cliquez ensuite le bouton "Autotune" et vérifiez si l'ordinateur a trouvé un meilleur réglage.
Veuillez prendre note que si vous cherchez un logiciel pour déterminer les valeurs optimums des composants d'un coupleur en T, vous devriez chercher ailleurs !
Pour utiliser ce logiciel localement sur votre ordinateur, téléchargez le fichier tuner.jar et le fichier que vous visualisez actuellement tuner.html et copiez les dans le répertoire de votre choix, puis visualisez le fichier tuner.html à l'aide de votre navigateur.
Le code source Java de l'applet est distribuée sous licence GNU general public. la source est disponible dans l'archive tunersrc.zip.
La page de l'auteur est disponible ici. Vous y trouverez quantité d'informations intéressantes d'un niveau technique parfois élevé !