Details

Hits: 22703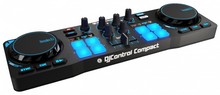 Updated 2023 jan. 27
A newer and mature version with more options has been published. An EXE file is available.
While setting up my remote station, I quickly have been confronted to the problem of the limitations of the remote ease of use. The first one is the ability to change the VFO frequencies. My logging software LOGGER32 offers a lot of macros and an option to use the mouse wheel to change the frequencies. But during daily traffic or contesting they quickly have shown their limitations.
On Twitter, I have seen that several hams have been using a small DJ controller for driving SDR receivers and transceivers. So I started thinking to do the same for the TS590s.