Details

Hits: 2779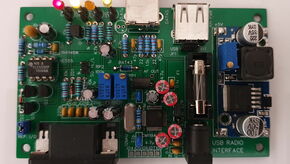 Our corsican repeater network TKNET uses the Asterisk software for the routing and communication between nodes. In order to digitalize the audio signals and interface them with the repeaters, i developped a small interface board some years ago. It was using a cheap USB audio stick that we modified and plugged on my board.
With time, this solution appeared to be not the best choice for different reasons. So, the idea to build a newer board with an onboard USB audio chip was born.
Being retired, i found the time and mood to develop a new interface board using the same chip CM119A which is a small LQFP-48 case.


Write comment (0 Comments)